Beet Salad With Lemon Vinaigrette
by
, October 22, 2017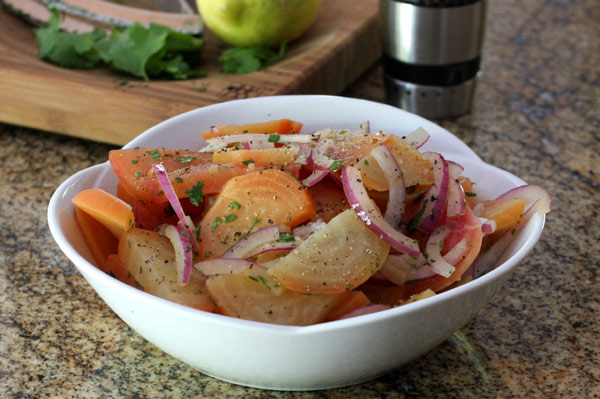 I used golden and two-tone Chioggia beets in this simple salad. Feel free to use part or all red beets if you prefer them. If you aren't a fan of cilantro, add some chopped fresh parsley instead.
Related:
Easy Harvard Beets
Orange Glazed Beets
Prep Time: 15 minutes
Cook Time: 1 hour 15 minutes
Total Time: 1 hour 30 minutes
Ingredients:
Instructions:
Heat the oven to 375 F.
Scrub the beets. Trim the ends, leaving about 1 inch of stem and root. Sprinkle the beets with kosher salt and black pepper and then drizzle a few teaspoons of olive oil over them. Wrap the beets tightly in foil and place them on a rimmed baking sheet or pan.
Roast for 1 to 1 1/2 hours, or until the beets are fork-tender.
When the beets are cool enough to handle, slip the skins off and cut off the ends. Slice them lengthwise and then slice them into 1/4-inch slices. Put the beets in a serving bowl.
Quarter and slice the red onion. Toss the sliced onion with the sliced beets.
In a cup or bowl, combine the olive oil, vinegar, lemon juice, and mustard; whisk to blend thoroughly. Add to the beets, along with freshly ground black pepper and salt or sea salt, to taste. Add the cilantro and toss gently to blend.
Makes 4 servings.
Site Search