Roasted Beef Tenderloin With Root Vegetables
by
, September 15, 2017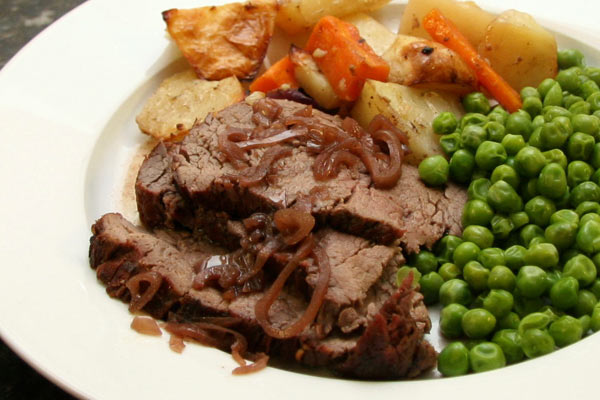 This tender, juicy beef tenderloin is roasted with potatoes and carrots. The beef is served with the vegetables and a delicious red wine sauce.
Related:
Roast Beef With Red Wine Sauce
Prep Time: 20 minutes
Cook Time: 1 hour 20 minutes
Total Time: 1 hour 40 minutes
Ingredients:
Beef Tenderloin and Marinade
Root Vegetables
Red Wine Sauce
Instructions:
Put the tenderloin in a large food storage bag with 1/4 cup red wine, the 4 cloves of garlic (minced), Cajun seasoning, 1/2 teaspoon salt, and 1/4 teaspoon pepper. Seal the bag and refrigerate for about 2 hours.
Preheat the oven to 425 F.
Lightly oil a large, shallow roasting pan.
Put the potatoes, carrots, and onion in a bowl and toss with the minced garlic, 1/2 teaspoon salt, 1/8 teaspoon pepper, and 3 tablespoons olive oil.
Arrange the vegetables in the prepared pan and cover with foil.
Roast for 20 minutes.
Meanwhile, heat 1 tablespoon olive oil and 1 tablespoon butter in a medium saucepan over low heat; add the sliced shallots and cook until lightly browned., stirring frequently. Add the beef stock and red wine; bring to a boil. Reduce heat to medium-low and simmer for about 15 minutes, or until reduced by about one-third to one-half.
Pour the marinade off the beef and add it to the sauce. Simmer for 2 minutes longer. Set aside and keep warm.
Remove the foil from vegetables; place the beef tenderloin on top of the vegetables. Roast uncovered for about 1 hour to 1 hour and 15 minutes, or until the beef registers about 145 F on a meat thermometer for medium, or to about 135 F for medium rare.
Place the beef on a cutting board and tent loosely with foil. Let the tenderloin stand for about 10 minutes.
Slice tenderloin and serve with the red wine sauce and vegetables.
Makes 6 servings.
Site Search