Braised Beef Shanks
by
, May 4, 2017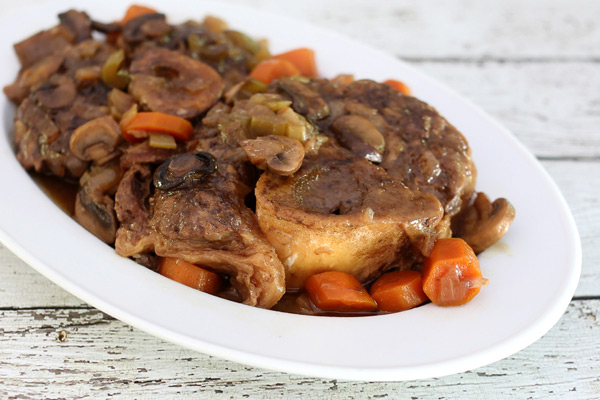 Meaty beef shanks are budget-friendly and flavorful. These beef shanks are braised in the oven to tender perfection with garlic, mushrooms, carrots, and red wine broth.
Prep Time: 20 minutes
Cook Time: 3 hours 20 minutes
Total Time: 3 hours 40 minutes
Ingredients:
Instructions:
Heat the oven to 300 F.
Put the 1/4 cup of flour in a wide shallow bowl or sturdy food storage bag; add the salt and pepper. Dredge or shake the beef shanks in the flour to coat thoroughly.
Heat 2 tablespoons of the vegetable oil in a large Dutch oven or heavy saute pan over medium-high heat. Cook the beef shanks, turning to sear both sides, for about 7 to 9 minutes. Remove the beef shanks to a plate and set aside.
Reduce the heat to medium. Add the mushrooms to the pan with another tablespoon of vegetable oil and cook until browned and tender. Remove the mushrooms to the plate with the beef shanks and set aside.
Add the onion, celery, carrots, and garlic to the pan with another tablespoon of oil. Cook, stirring constantly, until the onions are translucent. Add the wine to the pan and bring to a boil. Simmer for 5 minutes to reduce slightly. Add the beef broth, beef shanks, and mushrooms back to the pan.
Cover the pan and bake for about 3 to 4 hours, until the meat is tender and falling off the bone.
Remove the beef and vegetables to a plate and keep warm while you make the gravy.
Strain the liquids and skim off fat. A gravy separator works well for this. Pour the skimmed liquids back into the Dutch oven or pan and add the solids to the beef shanks and vegetables.
Put the pan with the liquids over medium heat and bring to a boil. Simmer for about 3 to 5 minutes to concentrate flavors.
Put 1 1/2 tablespoons of flour into a small bowl or cup.
Add 2 tablespoons of cold water and whisk until smooth. Stir into the simmering liquids. Cook, stirring, until thickened.
Taste the gravy and add salt and pepper, as needed.
Serve the beef shanks with the gravy and vegetables, along with mashed or boiled potatoes or hot cooked noodles.
4 Servings
Site Search