Spicy Bean Soup With Andouille Sausage
by
, April 14, 2017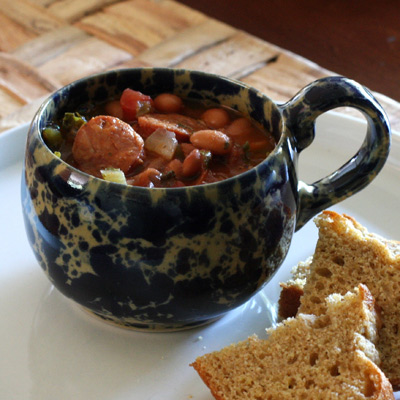 Canned pinto beans and smoked andouille sausage make for an easy and hearty soup, and it cooks in under 30 minutes. If you like a less spicy soup, use another smoked sausage and replace the Creole seasoning with a milder seasoning salt blend. Serve the soup along with sandwiches or salad. Cornbread is the perfect bread for this soup, but a crusty French bread would be excellent as well.
Prep Time: 10 minutes
Cook Time: 20 minutes
Total Time: 30 minutes
Ingredients:
Instructions:
Heat the olive oil in a large saucepan or Dutch oven over medium heat. Add the sliced andouille sausage, onion, and celery to the pan and cook, stirring, for about 4 to 5 minutes. Add the garlic and bell pepper and continue cooking for about 4 minutes longer.
In a large saucepan, heat the olive oil over medium heat. Add the sliced sausage, onion, and celery and saute for about 5 minutes, stirring frequently. Add the bell pepper and continue cooking, stirring, for 3 or 4 minutes longer.
Add the diced tomatoes, seasoning blend, and chicken broth. Add the drained pinto beans. Bring to a boil; reduce heat, cover, and simmer for 15 minutes.
Taste and add salt and freshly ground black pepper, as needed.
Add the green onions and parsley and continue cooking for 2 minutes.
6 Servings
Site Search