Baked Pumpkin Doughnuts With Maple Glaze
by
, September 29, 2017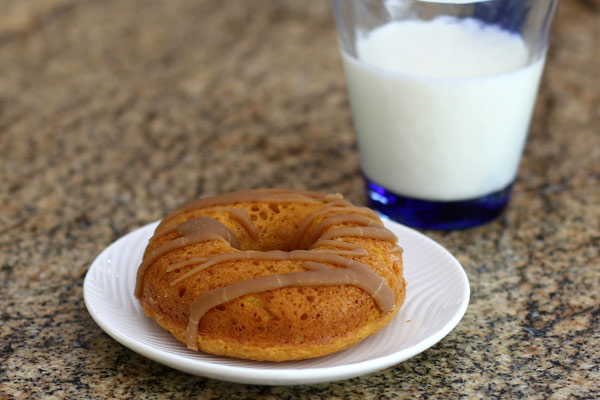 Here's an excellent way to enjoy the fall season! These pumpkin doughnuts are finished with a delicious maple glaze. The doughnuts take just a few minutes to prepare and bake. They're as easy to fix in the morning as a batch of pancakes.
Related:
Pumpkin Pecan Pancakes
Baked Chocolate Doughnuts With Vanilla Glaze
Prep Time: 10 minutes
Cook Time: 14 minutes
Total Time: 24 minutes
Ingredients:
Glaze
Instructions:
Preheat the oven to 350 F.
Spray the wells in the doughnut pan with nonstick cooking spray.
In a bowl, combine the flour, baking powder, salt, cinnamon, and granulated sugar; stir or whisk to combine.
In a mixing bowl, whisk the egg with the pumpkin, 2 teaspoons of vanilla, and evaporated milk. Add the flour mixture and stir just until moistened.
Spoon the batter into a plastic bag, cut a corner off, and pipe it into the wells of the doughnut pan. Or spoon the batter into the pan. Fill the cavities about 3/4 full.
Bake the doughnuts for 12 to 16 minutes, or until a toothpick inserted into a doughnut comes out clean.
Meanwhile, make the glaze. In a small saucepan, heat the butter over medium-low heat. Cook until the butter is lightly browned, stirring constantly. Add the brown sugar, cream, and maple syrup and continue cooking for 1 to 2 minutes, stirring constantly.
Sift 3/4 cup of powdered sugar into the glaze mixture along with the 1 teaspoon of vanilla. Whisk until smooth. Add more powdered sugar if the glaze is too thin. If you have any lumps in the glaze, pour it through a mesh sieve.
Cool the doughnuts slightly in the pan and then remove them to a wire rack.
Drizzle the maple glaze over the doughnuts while they are still warm.
Makes 6 servings.
Site Search