Baked French Fries
Updated July 1, 2017 by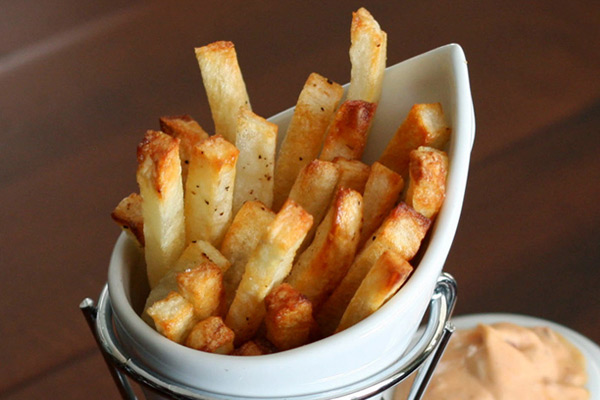 These baked French fries are easy to fix, and they're lighter than deep fried.
Prep Time: 15 minutes
Cook Time: 30 minutes
Total Time: 45 minutes
Ingredients:
Instructions:
Heat oven to 425 F.
Scrub the potatoes and peel if desired. Slice lengthwise into thin 1/4-inch slices. Cut the slices into 1/4-inch strips.
Brush 1 tablespoon of oil over the bottom of a large rimmed baking sheet. Dry the potato strips and toss them in a bowl with 2 to 3 tablespoons of oil. Sprinkle with the salt or seasoned salt and toss to coat evenly. Alternatively, use an olive oil spray or similar nonstick cooking spray.
Spread potato strips out in a single layer in the baking pan.
Bake for about 12 minutes.
Stir and turn the potatoes and continue baking for 8 to 10 minutes longer.
Turn again and bake for about 10 minutes longer, or until tender and golden brown.
Makes 4 Servings
Site Search