Roasted Lemon and Herb Chicken Breasts
by
, July 5, 2017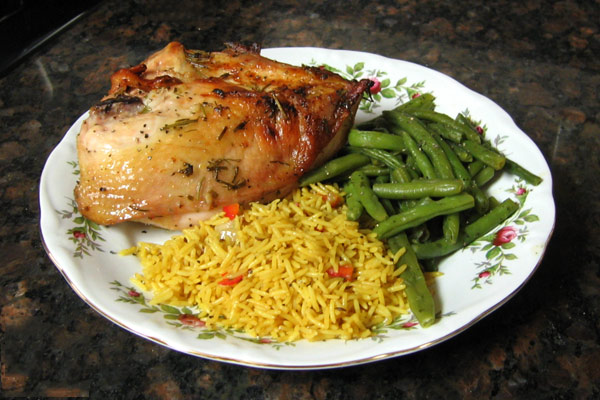 Lemon, olive oil, and herbs make a flavorful marinade for these bone-in chicken breasts. This is an easy roasted chicken recipe, perfect for any day of the week. The recipe can be made with other chicken pieces. It would be excellent with chicken thighs or whole legs as well.
Related:
Top 24 Easy Chicken Recipes
Prep Time: 10 minutes
Cook Time: 45 minutes
Total Time: 55 minutes
Ingredients:
Instructions:
Preheat the oven to 400 F.
Pat the chicken dry with paper towels and place it in a nonreactive container or food storage bag.
In a bowl, combine the olive oil, lemon juice, scallions, garlic, lemon zest, rosemary, dill, and thyme. Pour the mixture over the chicken. Cover or seal the bag and refrigerate for 2 to 4 hours. Turn occasionally to keep the chicken coated with the marinade.
Remove chicken from marinade and arrange it, skin-side up, on a rack in a foil-lined baking pan. Sprinkle lightly with kosher salt and freshly ground black pepper.
Pour the marinade into a saucepan and place it over high heat. Bring it to a boil; continue boiling for 1 minute.
Bake the chicken breasts for about 40 to 50 minutes, basting frequently with the boiled marinade. The minimum safe temperature for chicken is 165 F.
Makes 12 Servings
Site Search