Panko and Bacon Crusted Chicken With Sriracha Mayo
Updated July 1, 2017 by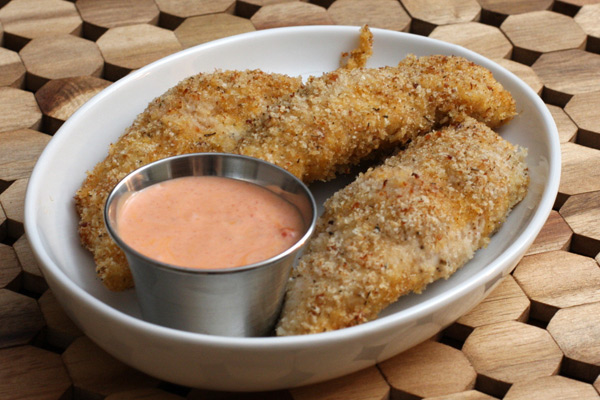 Panko crumbs, dried herbs, and crispy cooked bacon are processed to make the flavorful coating for this chicken. The optional sriracha mayonnaise is delicious with the chicken, or use your own favorite dip.
Related:
Top 24 Easy Chicken Recipes
Prep Time: 15 minutes
Cook Time: 20 minutes
Total Time: 35 minutes
Ingredients:
Instructions:
Heat the oven to 425 F.
Line a baking sheet with foil and spray with nonstick cooking spray.
In a food processor, pulse the bacon, panko crumbs, sage, thyme, pepper, and salt until crumbs are fine. Transfer the crumbs to a wide, shallow bowl.
In a small bowl, combine the 1/4 cup of mayonnaise, garlic powder, and 1 teaspoon of Sriracha sauce, if using.
If using boneless chicken breast halves, cut them into strips. Brush chicken tenders or strips generously with the mayonnaise mixture. Press the chicken into the panko and bacon mixture, turning to coat thoroughly. Arrange the coated chicken pieces on the prepared baking sheet.
Bake the chicken for about 15 to 20 minutes, or until the chicken is cooked through. Chicken must be cooked to a minimum of 165 F on a food thermometer.
Serve the chicken tenders with the optional Sriracha mayonnaise or ranch dressing.
Sriracha Mayonnaise
Combine the 1/2 cup of mayonnaise with Sriracha sauce to taste and about 1/2 teaspoon to 1 teaspoon of sambal (Asian chili paste).
4 Servings
Site Search