Cabbage With Cheese Sauce and Bacon
by
, August 17, 2017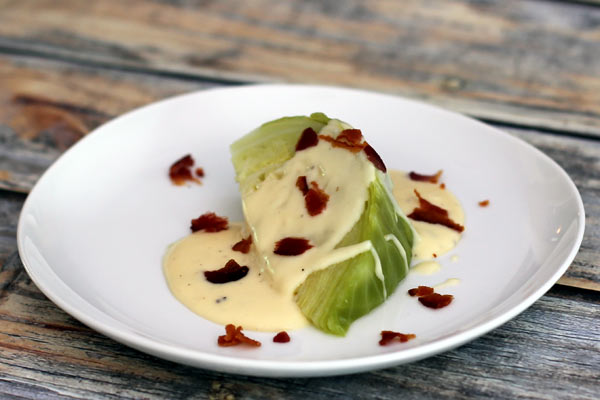 The cheese sauce and bacon are the perfect topping combination for these simple cooked cabbage wedges. Make the tasty cheese sauce with a good, flavorful melty cheese, like sharp cheddar, fontina, Gruyere, or Monterey Jack.
Related:
Cabbage Casserole With Bacon
Prep Time: 15 minutes
Cook Time: 30 minutes
Total Time: 45 minutes
Ingredients:
Instructions:
Slice the cabbage into 6 wedges and place them in a large saucepan with about 1 cup of water and 1/2 teaspoon of kosher salt. Cover the pan and cook over medium heat until the cabbage is tender, or about 10 minutes.
Meanwhile, in a large skillet over medium heat, cook the bacon until crisp. Remove the bacon to paper towels to drain. Pour off all but 1 tablespoon of the bacon drippings.
Add 3 tablespoons of butter to the skillet with the bacon drippings. When the butter has melted, add the flour. Cook for about 2 minutes, stirring constantly. Gradually add the milk to the roux and continue cooking until the sauce has thickened. Add the cheese and salt and pepper, to taste.
Arrange the drained cabbage wedges on a serving platter. Spoon the cheese sauce over the cabbage. Crumble the bacon and sprinkle it over the cabbage.
Makes 6 Servings
Site Search