Bacon and Chive Biscuits
by
, September 24, 2017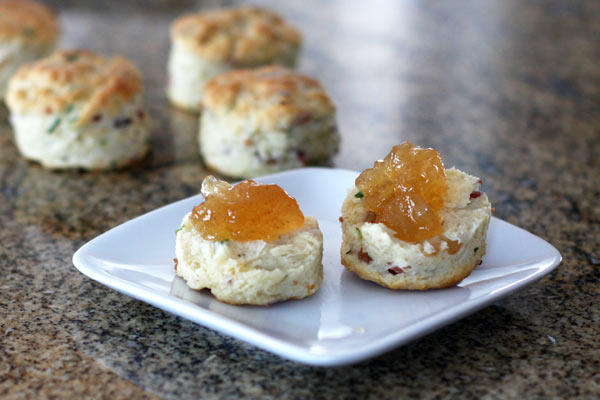 Diced cooked bacon and chopped chives or green onion tops flavor these flaky biscuits. They're easy to make and bake and go well with just about any main dish. Serve them as a lunch biscuit or with a hearty stew or chili. Or fill them with ham or chicken salad for tasty little sandwiches.
Related:
Parsley Biscuits
Easy Cheddar Biscuits
Prep Time: 12 minutes
Cook Time: 15 minutes
Total Time: 27 minutes
Ingredients:
Instructions:
Heat the oven to 425 F.
Spray a large baking sheet with nonstick baking spray or line the pan with parchment paper.
In a large bowl, combine the flour, baking powder, salt, and sugar. Stir to blend thoroughly.
Work the butter in with your fingers or a pastry blender until the mixture resembles fine crumbs. Add the chives and chopped bacon. Add the bacon drippings and milk and then stir just until moistened.
Transfer the mixture to a floured surface and knead just a few times until the soft dough holds together.
Pat the dough into a circle about 1/2 to 3/4-inch in thickness. Avoid overworking the dough.
Cut the biscuits out with biscuit cutters and arrange on the prepared baking sheets, leaving about 1 1/2 inches between biscuits. Gather any dough scraps together, gently pat into a circle, and cut out more biscuits. Repeat with any remaining dough scraps. Note: Because the last scraps of dough are worked more, the last biscuits might not be as tender and flaky as the first ones. You can avoid this by using a square biscuit cutter.
Bake for 12 to 16 minutes, or until golden brown.
Makes 15 servings.
Site Search