Glazed Applesauce Cookes
by
, May 10, 2017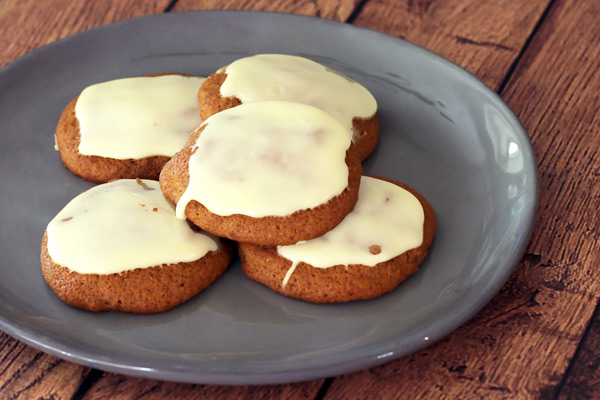 Glazed applesauce cookies are made with chopped nuts, raisins, or dried cranberries.
Prep Time: 15 minutes
Cook Time: 12 minutes
Total Time: 27 minutes
Ingredients:
Instructions:
In a bowl, combine the flour, soda, spices, and salt; stir and set aside.
In a mixing bowl with an electric mixer, cream the brown sugar and shortening until smooth; beat in the applesauce, egg, and 1 teaspoon of vanilla. Stir in the flour and spice mixture until well blended. Fold in the raisins, craisins or chopped nuts.
Cover the bowl and refrigerate the cookie dough for 1 hour.
Heat oven to 400 F.
Line baking sheets with parchment paper or grease lightly.
Drop the dough by rounded teaspoonfuls onto the baking sheets. Bake for about 8 to 10 minutes, or until firm. Immediately remove the cookies to racks and let cool.
Glaze cooled cookies with the vanilla glaze (below).
Heat the butter in a small saucepan over medium heat until the solids are lightly browned. Don't let the butter burn or get too dark. Remove from the heat and stir in the confectioners' sugar and 1 teaspoon of vanilla. Add enough 1 tablespoon of milk; stir and add more milk, as needed, to make a smooth glaze.
Makes About 3 Dozen Cookies
Site Search