Apple Stuffed Chicken Rolls With Easy Gravy
by
, August 10, 2017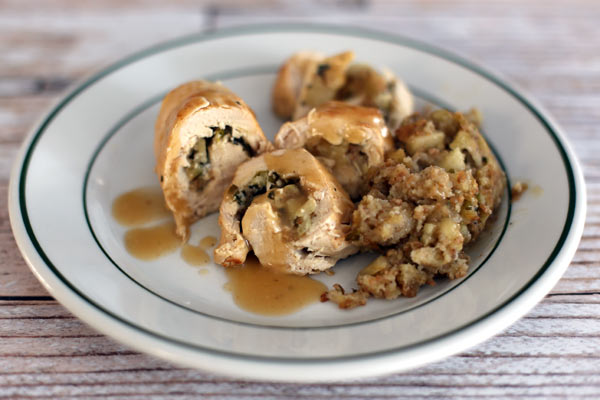 These chicken breast rolls are filled with a delicious apple and bread stuffing. The chicken rolls are served with an easy chicken gravy. Serve the chicken and gravy with the extra baked stuffing mixture and mashed potatoes.
Related:
Top 24 Easy Chicken Recipes
Prep Time: 22 minutes
Cook Time: 35 minutes
Total Time: 57 minutes
Ingredients:
Instructions:
Place the chicken breasts between sheets or plastic wrap or in a food storage bag and pound with the smooth side of a meat mallet or a heavy pan until thinned evenly.
In a large skillet over medium-high heat, melt 4 tablespoons of the butter. Add the onions and cook until translucent, stirring constantly. Remove from heat. Stir in 1/2 cup of apple juice, the chopped apples, bread crumbs, and parsley.
Taste and add salt and pepper, as needed. Mix well. Remove the apple stuffing mixture to a bowl and set aside. Wipe the pan clean and set aside.
Heat the oven to 350 F.
Place a few tablespoons of the stuffing mixture in the center of each flattened chicken breast half. Roll up, tucking the ends under, burrito-style. Secure the rolls with toothpicks or skewers.
Butter a small baking dish. Put the remaining stuffing mixture in the baking dish and bake in the preheated oven for 30 minutes. Keep warm until the chicken is done.
Meanwhile, add the remaining 1 tablespoon of butter to the skillet and place it over medium-high heat. When the butter has melted, add the chicken rolls. Cook, carefully turning until browned on all sides. Add 1/4 cup of the chicken broth to the pan along with the wine or sherry. Cover, reduce heat to a simmer and cook slowly for 20 to 30 minutes, or until the chicken and filling are thoroughly cooked. The minimum safe temperature for chicken with stuffing is 165 F in the center of the stuffing. When done, transfer to a serving dish and remove the toothpicks.
Stir the 1 1/2 tablespoons of cornstarch into 1 tablespoon of cold water. Add the cornstarch mixture to the pan juices and stir until smooth. Add the remaining chicken broth and bring to a boil. Continue cooking until the sauce has thickened, stirring constantly.
Makes 4 Servings
Site Search