Apple Dumplings in Pastry
by
, September 29, 2017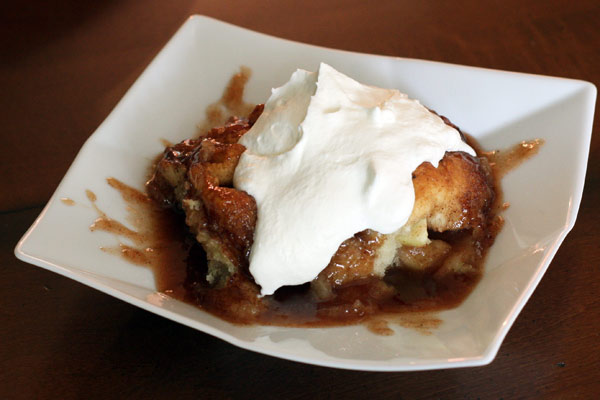 These delicious apple dumplings are a great way to use fresh fall apples. The apples are diced and then encased in a soft pastry. They are baked to perfection with brown sugar syrup. Serve them with the syrup and freshly whipped cream.
Related:
Apple Crumble Pie
Prep Time: 15 minutes
Cook Time: 45 minutes
Total Time: 60 minutes
Ingredients:
Syrup
Apples
Pastry
Instructions:
Lightly grease a shallow baking dish large enough to hold six apples.
In a medium saucepan, combine the 3/4 cup of brown sugar and 3/4 cup of granulated sugar with 1 teaspoon cinnamon, 1/4 teaspoon nutmeg, and 1 1/2 cups of water. Bring to a boil over high heat. Reduce the heat to low and simmer for 5 minutes. Stir in 4 tablespoons of butter until melted. Remove the syrup from the heat and set aside.
Heat oven to 375 F.
Peel and core the apples; dice. In a bowl, combine the diced apples with the lemon juice, 1/3 cup of granulated sugar, 1/2 teaspoon of cinnamon, and 1/4 teaspoon of nutmeg. Set aside.
In a food processor or by hand, combine the flour and baking powder and salt. Cut in shortening until mixture resembles coarse meal. Add the milk and stir just until the dough holds together.
On a floured board, roll the dough into a 1/8-inch thick rectangle, about 18 inches by 12 inches. Cut into six 6-inch squares.
Put even amounts of the apple mixture into the center of each square of pastry. Top each mound of diced apple with a small piece of butter then moisten the edges of the pastry. Bring corners of the pastry up and pinch the edges to seal. Arrange the pastry-wrapped dumplings in the baking dish then pour the syrup over them. Bake for 40 to 45 minutes, or until nicely browned.
Serve warm with a drizzling of heavy cream or whipped cream topping.
Makes 6 generous servings.
Site Search