Apple Cookies With Raisins, Walnuts, and Vanilla Glaze
by
, May 10, 2017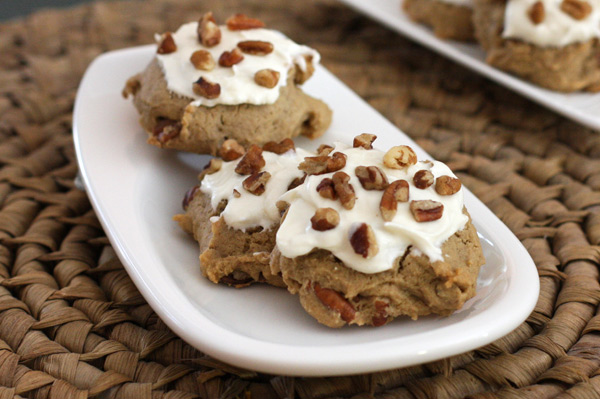 Glazed apple cookies get crunch and flavor from the walnuts, raisins, and spices. The cookies are drizzled with an easy vanilla glaze.
Prep Time: 15 minutes
Cook Time: 12 minutes
Total Time: 27 minutes
Ingredients:
Instructions:
Heat oven to 400 F.
Lightly grease baking sheets or line them with parchment paper.
Combine the flour with baking soda, and salt; stir or whisk to blend and set aside.
In a mixing bowl with an electric mixer, cream the shortening with brown sugar until smooth and creamy; add the 1 teaspoon of vanilla, the cinnamon, nutmeg, and cloves and beat until well blended. Beat in the eggs until well blended.
Stir in about half of the flour and baking soda mixture and then fold in the nuts, apple, and raisins.
Blend in the milk and remaining flour mixture until blended.
Drop dough by heaping teaspoonfuls onto the prepared baking sheet(s), leaving about 2 inches between mounds.
Bake the cookies for about 12 to 14 minutes, or until they are firm and the bottoms are lightly browned.
While cookies are baking, sift the confectioners' sugar into a bowl. Add the softened butter, 1/2 teaspoon of vanilla extract, a dash of salt, and 1/4 cup of milk. Beat until smooth and well blended. Add more confectioners' sugar or milk to get a good drizzling or spreading consistency.
Remove cookies to a rack and spread with a thin layer of glaze while still warm.
Makes About 4 Dozen Cookies
Site Search