Almond Crescent Cookies
by
, September 9, 2017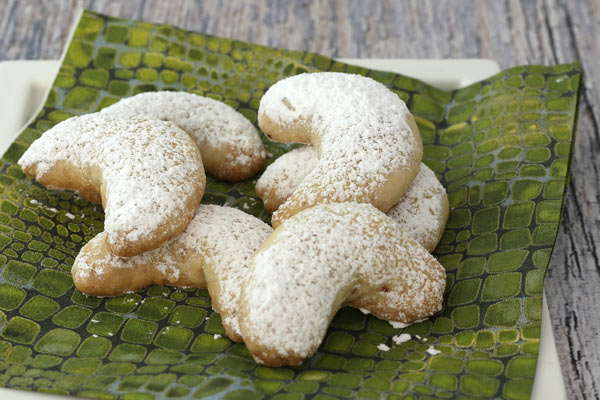 These almond crescents are essential holiday cookies, and they are so easy to mix and bake. The butter cookies have wonderful flavor and texture, and the coating of powdered sugar makes them look extra-special on a plate.
Related:
Chewy Sugar Cookies
Prep Time: 10 minutes
Cook Time: 15 minutes
Total Time: 25 minutes
Ingredients:
Instructions:
Line baking sheets with parchment paper.
In a mixing bowl with an electric mixer, beat the butter and 1/2 cup of confectioners' sugar until smooth and creamy. Add the vanilla and almond extracts and blend well. With the mixer on low speed, add the flour, salt, and almond meal. Blend well.
Chill the dough for about 30 minutes.
Heat the oven to 325 F.
Shape dough into crescents, using a small cookie scoop or heaping teaspoon for each cookie. Place the cookies on the prepared baking sheets and bake about 14 to 17 minutes, or until firm and lightly browned on the bottoms.
Let the cookies cool in the pan on a rack.
Sift the remaining 1/2 cup of confectioners' sugar over the cookies. Alternatively, you may roll the cookies in the confectioners' sugar to coat thoroughly.
36 servings.
Site Search