Classic Sweet Potato Casserole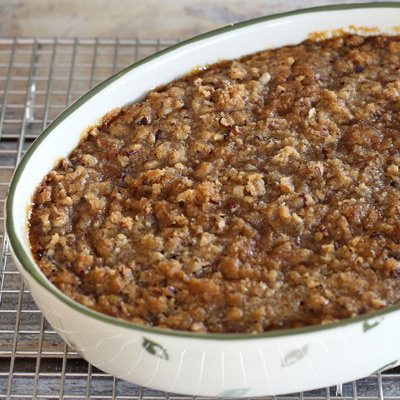 Here's a classic sweet potato casserole with brown sugar pecan topping. It's made with eggs, butter, milk, a little sugar, and crunch topping. If you like a very sweet mixture, add more granulated sugar, and taste before adding the eggs. This is a wonderful casserole for the holiday dinner table.
Prep Time: 18 minutes
Cook Time: 55 minutes
Total Time: 1 hour 13 minutes
Ingredients:
Instructions:
Preheat oven to 325 F.
Mix the sweet potatoes, 5 tablespoons of butter and the granulated sugar until well blended. Beat in the eggs and milk.
Pour the sweet potato mixture into a greased 2-quart baking dish.
Combine the pecans, brown sugar and flour. Stir in 2 tablespoons of melted butter.
Sprinkle the pecan mixture over the sweet potatoes and bake the casserole for 50 to 60 minutes.
Serves 8.

More Sweet Potato Casserole Recipes
Baked Sweet Potatoes With Brown Sugar Glaze
Mashed Sweet Potatoes

Vegetable Recipes Index

Site Search