Fried Onion Rings
by
, Updated April 4, 2017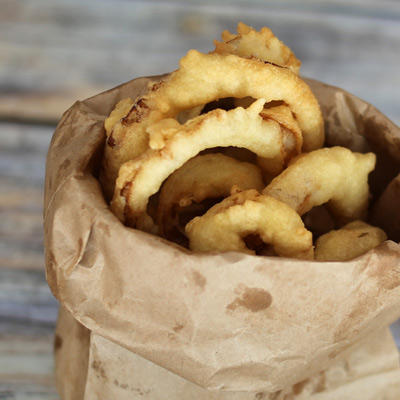 These fried onion rings are made with a simple batter, deep-fried to perfection.
Prep Time: 15 minutes
Cook Time: 15 minutes
Total Time: 30 minutes
Ingredients:
Batter
Instructions:
Peel the onion and slice about 1/4 inch thick; separate into rings.
Cover the onion with cold water and let stand for 20 minutes. Drain and
spread the onion rings out on paper towels to dry.
Combine the flour, salt and baking powder in bowl; stir to blend and set aside.
In another bowl, beat the egg yolk slightly; stir in milk and 1 tablespoon of vegetable oil. Add to flour mixture; stir until smooth.
Beat the egg white until stiff peaks form; fold into batter.
Heat 1 inch of shortening or vegetable oil to 370 F in a deep skillet or saucepan.
Dip onion rings in batter; let excess batter drip off.
Drop several rings at a time into hot fat and fry until golden.
Drain on paper towels.

More Onion Recipes
Stuffed Onions
Fabulous French Onion Soup
Vegetable Recipes Index

Site Search