Okra and Tomatoes
by
, Updated April 4, 2017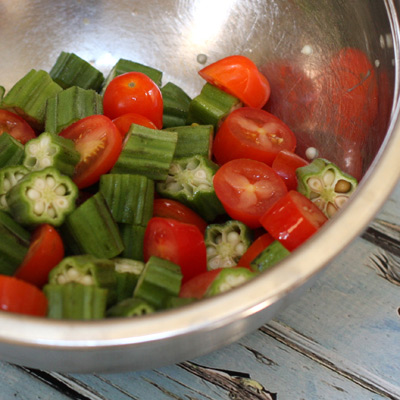 Okra and fresh tomatoes make a delicious combination, and the bacon gives the dish even more flavor. Make this dish to use your fresh tomatoes and okra and serve with any main meal.
Prep Time: 25 minutes
Cook Time: 30 minutes
Total Time: 55 minutes
Ingredients:
Instructions:
In a large skillet, fry the bacon until crisp. Transfer to paper towels and crumble the bacon.
Add chopped onions to the bacon drippings and cook over low heat, stirring, until tender. Add the okra, tomatoes, salt, pepper, and hot sauce. Simmer, stirring occasionally, for about 15 to 20 minutes, until the vegetables are tender.
Serve topped with crumbled bacon.
Serves 6.

More Okra Recipes
Fried Okra
Fried Okra With Cornmeal Coating
Vegetable Recipes Index

Site Search