Butternut Squash and Apple Casserole
by
, Updated April 4, 2017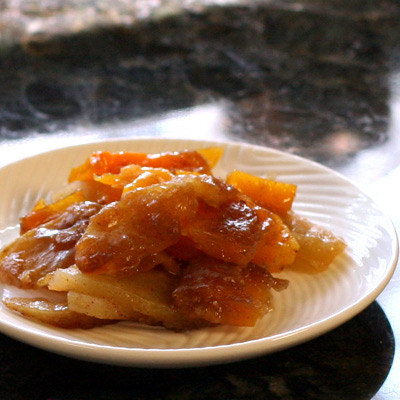 Delicious butternut squash is cooked with apples, brown sugar, and spices in this great butternut squash casserole recipe. Serve this with any fall meal.
Prep Time: 20 minutes
Cook Time: 45 minutes
Total Time: 1 hour 5 minutes
Ingredients:
Instructions:
Peel the squash, scoop out seeds, and cut it into small pieces.
Peel the apples, core, and cut them into thin slices.
Place squash and apple slices in a buttered 7- x 11-inch baking dish.
Blend remaining ingredients with fork or pastry cutter until crumbly. Sprinkle the crumbs over squash and apple.
Cover and bake the casserole in a preheated 350 F oven for about 45 to 50 minutes, or until the squash is tender.
Serves 6 to 8.

Related
Maple Glazed Squash Rings

Vegetable Recipes Index




Site Search