Savory Rice and Spinach Bake
by
, Updated April 4, 2017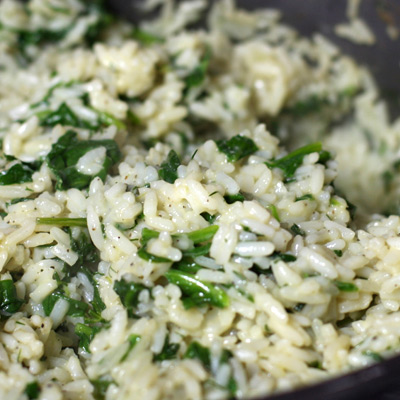 This rice and spinach bake is made with spinach, a little onion, and sage. This is an easy and tasty rice dish to serve with any meal. Feel free to use strong chicken broth instead of the water and bouillon cubes, or add a few bouillon cubes to 3 cups of regular chicken broth.
Prep Time: 10 minutes
Cook Time: 50 minutes
Total Time: 1 hour
Ingredients:
Instructions:
Preheat oven to 375 F.
Saute onion in oil. Add rice and saute for 2 to 3 minutes, stirring well.
Transfer to a buttered 1 1/2-quart baking dish.
Dissolve bouillon cubes in boiling water and add sage. Pour over rice.
Place spinach on top of rice.
Bake, covered, for about 45 minutes or until liquid is absorbed.
When done, stir spinach into rice.

More Rice Recipes
Related Rice Recipes
Lentils and Rice
Jollof Rice
Spanish Rice Recipe
Garlic and Parmesan Cauliflower Rice
Spanish "Rice" With Ground Beef and Cauliflower Rice

Vegetable Recipes Index








Site Search