Slow Cooker Pulled Pork
by
, Updated June 30, 2017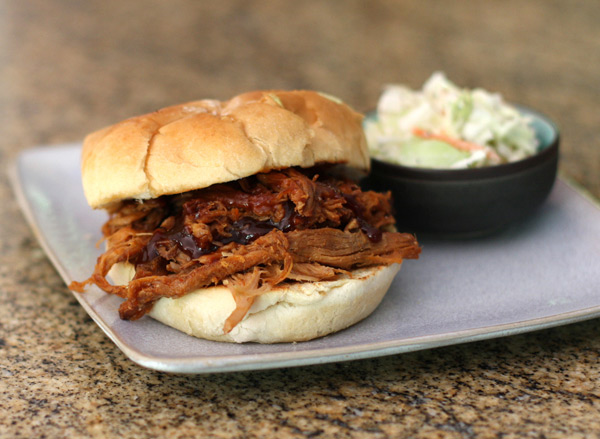 This is one of our favorite meals, and this recipe will give you moist, delicious pulled pork every time. We love pulled pork with baked beans, coleslaw, and potato salad. Other possibilities for serving: roasted or grilled corn on the cob, baked potatoes or fries, pickle slices, sliced tomatoes, macaroni salad. Enjoy!
Prep Time: 10 minutes
Cook Time: 10 Hours
Total Time: 10 Hours, 10 minutes
Ingredients:
Instructions:
Arrange half of the onions in the slow cooker. Top with the pork, then put the remaining onions over the roast. In a large cup or bowl, combine the garlic, apple juice, vinegar, brown sugar, and Worcestershire sauce. Pour over the roast.
Cover and cook on LOW for about 10 hours, or HIGH for about 5 hours. Or, cook on HIGH for an hour then turn to LOW to cook for 8 hours longer.
Remove onions with a slotted spoon; set aside. Pour off liquids; discard.
With forks or hands, shred the pork shoulder, discarding any excess fat. Put the shredded pork back into the slow cooker along with the reserved onions.
Add 1 cup of your favorite barbecue sauce and stir to blend ingredients.
Cover and cook on LOW for about 20 minutes longer, or until hot.
Serve on toasted buns with coleslaw and baked beans. Delicious!
Serves 8.
Calories per serving, based on about 3/4 cup shredded pork for each sandwich: 467
Site Search