Pork and Noodles
by
, Updated June 30, 2017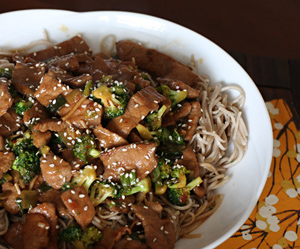 A spicy Asian sauce mixture flavors this easy stir fried pork dish. Use vermicelli, thin spaghetti, soba noodles, or similar pasta in this dish, or leave the noodles out and serve over hot cooked rice.
Prep Time: 20 minutes
Cook Time: 30 minutes
Ingredients:
Sauce:
Instructions:
Combine the 2 tablespoons of soy sauce, 1 teaspoon sesame oil, 2 thinly sliced green onions, cornstarch, and sliced pork; toss to coat and let stand for 15 minutes.
Meanwhile, combine the sauce ingredients; set aside.
Cook the noodles following package directions; drain in a colander under cold water. Toss with the 2 teaspoons of sesame oil and set aside.
In a wok or large skillet, heat 2 tablespoons of oil; add the green onions and ginger paste and cook, stirring, for about 1 minute. Add the pork with marinade and cook, stirring constantly, until pork is browned and cooked through. Remove to a plate and set aside.
Add 2 more tablespoons of oil to the skillet and cook the broccoli until it just begins to be tender. Remove and set aside.
Add 1 or 2 tablespoons of oil to the wok or skillet and add the noodles. Cook, stirring frequently, until hot. Remove to a serving dish.
Add the Pork, broccoli, and sauce mixture to the skillet and cook, stirring, for 1 to 2 minutes, until thickened and hot.
Pour the pork mixture over the hot noodles and sprinkle with sesame seeds and green onions, if desired.
Serves 4.
Site Search