Pasta Salad With Bacon
by
, Updated June 30, 2017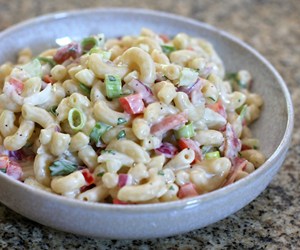 Smoky bacon jazzes up this flavorful macaroni salad, making it a great salad to take to a potluck or serve at your next family cookout. Use freshly cooked bacon or use the packaged precooked bacon for faster preparation time. Double this macaroni salad recipe for a large group or gathering.
Prep Time: 20 minutes
Total Time: 20 minutes
Ingredients:
Instructions:
Toss the macaroni with the bacon, celery, red and green onion. Stir in the lemon juice, about 1 cup of mayonnaise, the sugar, salt, and pepper. Add more mayonnaise, as needed.
Serves 6
Calories per serving (made with 1 cup mayonnaise and 10 slices of bacon): 510

More Salads
Chicken Pasta Salad
Confetti Macaroni and Tuna Salad
Chicken and Cucumber Pasta Salad

Site Search