General Tso's Chicken
by
, Updated June 30, 2017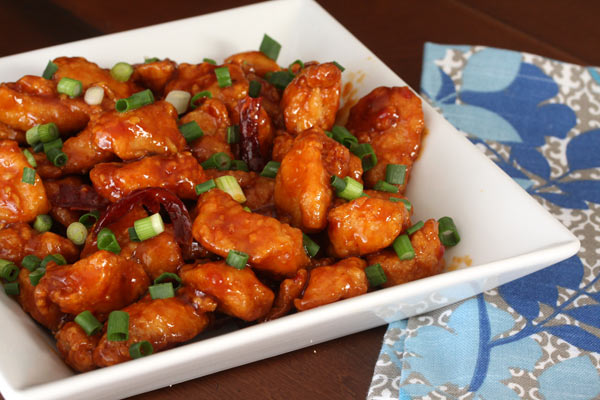 This flavorful General Tso chicken is made with chicken breasts and a delicious spicy sauce. Serve this chicken over rice or with your favorite Asian style noodle dish, garnished with thinly sliced green onions.
Related:
Honey and Peanut Glazed Chicken Thighs
Total Time: 60 minutes
Marinade
Ingredients:
Sauce
Marinade
Coating Mixture
For Frying and Serving
Instructions:
In a bowl, combine the broth or water, ketchup, 1 1/2 tablespoons soy sauce, rice vinegar, hoisin sauce, chili paste, sesame oil, brown sugar, and 1 teaspoon cornstarch. Set aside.
In a large bowl, combine 1 1/2 tablespoons soy sauce, the sherry, and 2 egg whites, whisk lightly to blend. Add the chicken pieces and let stand for 10 to 15 minutes.
Meanwhile, combine the 1 1/2 cups of cornstarch, salt, and pepper in a large food storage bag.
With a slotted spoon, lift the chicken out of the marinade, several pieces at a time, and toss them in the bag with the cornstarch mixture. Transfer to a plate while coating the remaining chicken pieces. Discard the marinade mixture.
Meanwhile, heat a few inches of peanut oil, high heat safflower, or canola oil in a wok or saute pan. The oil should be deep enough to cover the chicken pieces. Alternatively, you may use a deep fryer to fry the chicken pieces.
When the oil is hot, about 365 F, add about 8 of the coated chicken pieces and fry until nicely browned, about 4 minutes. Remove to paper towels and continue frying subsequent batches
Heat 1 tablespoon of oil in a wok or saute pan over medium high heat. Add the coarsely broken chile peppers and garlic and stir fry for about 30 to 60 seconds, or until aromatic. Note: don't inhale the fumes -- smell from a bit of a distance.
Add the sauce mixture (from step 1) to the wok and cook, stirring, for about 30 seconds, or until thickened. Add the chicken pieces and stir fry until hot and thoroughly coated.
Serve with hot cooked rice or your favorite noodle dish.
Serves 4 to 6.

Related Recipes
Easy Garlic Noodles
Spicy Chicken with Chili Paste and Peanuts
Chinese Hot and Spicy Chicken
Glazed Chicken Wings
Site Search