Deviled Eggs
by
, Updated June 30, 2017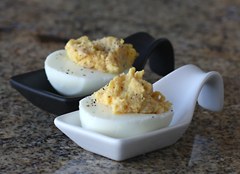 These delicious deviled eggs are made with a little deviled ham, making them truly extra-special. Sweet pickle relish and a little celery salt adds to the flavor of these tasty deviled eggs. Take these deviled eggs to a party or make them for a family snack.
Prep Time: 15 minutes
Cook Time: 20 minutes
Total Time: 35 minutes
Ingredients:
Instructions:
Put eggs in a large saucepan; cover with water. Cover the pan and bring the eggs to a full rolling boil. Remove from heat and let stand, covered, for 20 minutes.
Add cold water to the eggs to cool and peel.
Cut eggs in half, lengthwise. Remove the yolks to a bowl. Add remaining ingredients to the yolks, with as much mayonnaise as desired for taste and consistency. Mix well. Fill the egg white halves with the yolk mixture and arrange on a platter or egg dish.
If desired, garnish with chopped green onions, chives, or parsley.
Makes 24 stuffed deviled egg halves.
Serves 6
Site Search