Creamed Spinach
by
, Updated June 30, 2017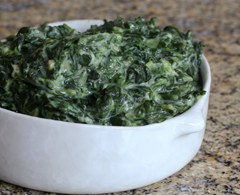 This creamed spinach dish will go well with just about any meat, fish, or poultry, and it is easy and delicious. Parmesan cheese adds extra flavor to this creamed spinach. This would be a great addition to a holiday meal, and it's easy enough to prepare any night of the week.
Prep Time: 15 minutes
Cook Time: 12 minutes
Total Time: 27 minutes
Instructions:

In a medium saucepan over medium-low heat, melt butter with the garlic. Add the flour and stir until well blended. Stir in the milk and cook, stirring, until thickened. Stir in the well drained spinach and the nutmeg. Cook, stirring, until spinach is tender and mixture is hot. Add the Parmesan cheese and salt and pepper to taste. Heat through.

Serves 8

Calories per serving:

133

Related Recipes
Spinach Salad with Bacon
Spinach Pie
Greek Style Rice with Spinach
Savory Rice and Spinach Bake
Manicotti with Spinach
Spinach, Mushrooms, and Brown Rice
F.
Site Search