Easy Sour Cream Coffee Cake
by
, Updated June 30, 2017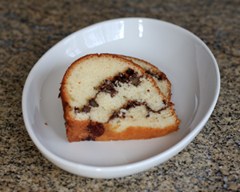 This sour cream coffee cake is easy to make with a cake mix, and a cinnamon and walnut filling makes it extra special.
Prep Time: 15 minutes
Cook Time: 1 hour
Total Time: 1 hour 15 minutes
Ingredients:
Instructions:
Generously grease and flour a 12-cup Bundt cake pan. Preheat oven to 325 F.
Combine the walnuts, brown sugar, cinnamon, and cocoa; set aside.
In a mixing bowl combine the cake mix and pudding mix. Add sour cream and oil and beat until well blended. Beat in eggs, one at a time. Beat with an electric mixer for 5 minutes.
Pour about one-third of the batter into the prepared Bundt cake pan. Top with half of the nut mixture. Add another one-third of the batter to the pan and top with the remaining nut mixture. Spread the remaining batter over the nut layer.
Bake for 1 hour, or until the cake bounces back when lightly touched with a finger.
Cool in the pan on a rack for 30 minutes. Carefully invert onto a cake plate.
Site Search