Buttermilk Chocolate Cake With Pecan Praline Topping
by
, Updated April 25, 2017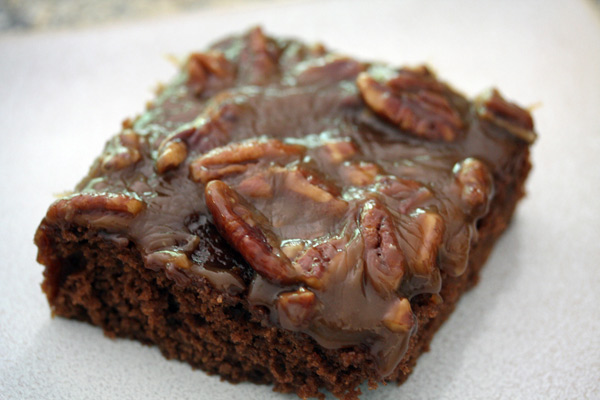 This cake would be fabulous served warm with a big scoop of ice cream! This delicious chocolate cake is made with buttermilk and cooca, topped with a buttery broiled topping made with brown sugar, cream, and pecans. It's an easy one-layer cake to make, and it's sure to become a family favorite.
Prep Time: 15 minutes
Cook Time: 27 minutes
Total Time: 42 minutes
Ingredients:
Instructions:
Preheat the oven to 350 F.
Grease and flour a 13 x 9 x 2-inch baking pan. Spray with baking spray or grease and flour.
In a mixing bowl with electric mixer on low, combine the melted butter and buttermilk. Beat in the brown sugar, vanilla, and eggs until smooth and well blended. Combine the flour, baking powder, and cocoa. Slowly stir into the butter and egg mixture then beat until well blended.
Spread in the prepared baking pan and bake for 25 minutes, or until the cake springs back when gently pressed with a finger.
Meanwhile, combine the topping ingredients in a saucepan and bring to a low boil. Cook, stirring frequently, for about 7 to 10 minutes, until thickened. Spread over the top of the hot cake and broil about 4 inches from the heat source for about 2 minutes, until bubbly and golden brown.
Serve warm with ice cream or whipped cream.
Serves 24

Calories per serving:

228
Site Search