Broccoli Cheese Soup
by
, Updated April 9, 2017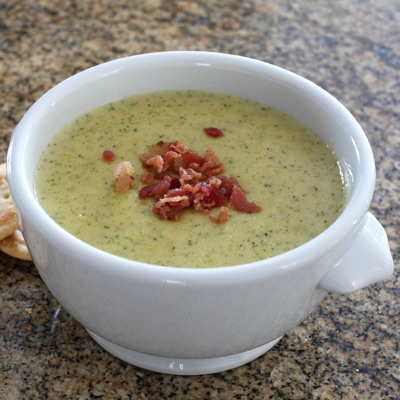 This flavorful broccoli cheese soup is a hearty soup for a cold fall or winter day. Serve it for lunch with a half sandwich or crackers.
Prep Time: About 10 Minutes
Cook Time: 25 Minutes
Total Time: 35 minutes
Instructions:
In a medium saucepan over medium heat, combine the chicken broth, broccoli, chopped onion, and bay leaves. Bring to a boil; reduce heat to a simmer, cover, and cook for about 20 to 25 minutes, or until broccoli is tender.
Remove bay leaves and discard. Carefully blend the broccoli mixture in two batches, processing just until smooth.
In a large saucepan, melt the butter over medium heat. Stir in the flour until smooth; cook, stirring, for about 1 minute. Add the milk and continue cooking, stirring, until thick. Add the broccoli mixture to the milk mixture, along with the shredded cheese. Cook, stirring, until cheese is melted and the soup is hot. Stir in the pepper and add salt, to taste.
Serve this great tasting broccoli cheese soup with crusty bread or crackers for a tasty lunch. Top with crumbled bacon, if desired.
Serves 6 to 8. Calories per serving (based on 6 servings): 310
Site Search