Best-Ever Slow Cooker Pot Roast
by
, Updated April 25, 2017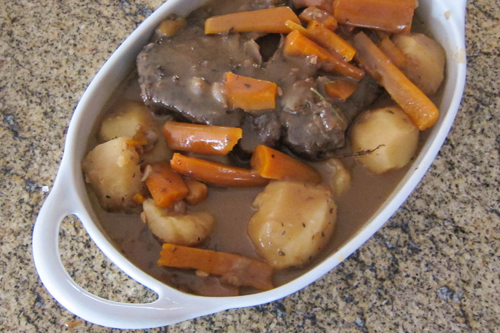 I make this delicious crock pot roast with potatoes, cabbage, and carrots, but you can leave the cabbage out if you'd like, or add rutabagas or turnips. It's a delicious slow cooker pot roast to make for a busy weekend meal. I like to brown the roast first, but if you're pressed for time, you can skip that step. The leftovers are great for sandwiches!
Prep Time: 15 minutes
Cook Time: 8 hours
Total Time: 8 hours 15 minutes
Ingredients:
Instructions:


Sprinkle salt and pepper over the beef roast and dust all over with the flour.
In a large skillet heat olive oil over medium-high heat. Brown the roast on all sides.
Arrange the potatoes, carrots and cabbage wedges in a 5 to 7-quart slow cooker. Place the browned roast on the vegetables then pour soup and broth over all.
Cover and cook on HIGH for 2 hours. Reduce heat to LOW and cook for 4 to 6 hours longer.
If you want a thicker and more flavorful gravy, separate the juices and discard the excess fat. Put the defatted juices in a saucepan and simmer for about 8 to 10 minutes to reduce. Mix 3 tablespoons of flour with 1/4 cup of cold water and whisk into the reduced juices. Continue cooking , stirring, until thickened.
Serves 6 to 8

Calories per serving (based on 6 servings):

610

More Pot Roast Recipes
Slow Cooker Brisket and Beer
Basic Beef Pot Roast with Vegetables
Spiced Beef with Vegetables

Site Search