Ground Beef Casserole With Mashed Potato Topping
by
, Updated April 25, 2017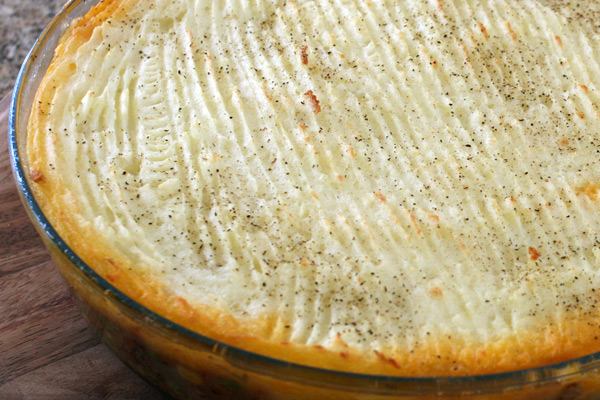 This flavorful casserole is made with ground beef, bacon, a mashed potato topping, and Cheddar cheese. This is a delicious everyday ground beef casserole, a great meal served with a tossed salad or sliced fresh tomatoes and cucumbers.
Prep Time: 20 minutes
Cook Time: 40 minutes
Total Time: 1 hour
Ingredients:
Instructions:
Grease a 2-quart baking dish.
Heat oven to 350 F.
Cook bacon until crisp; drain on paper towels and set aside.
Cook the beef in the bacon drippings until browned, stirring to break up. Stir in flour, blending well. Stir in the onion, mushrooms, carrot, and celery, along with the beef broth and Worcestershire sauce. Stir in thyme and pepper. Bring to a boil; reduce heat and simmer, uncovered, for about 15 minutes, or until vegetables are tender. Stir in the reserved bacon and transfer to the prepared baking dish.
Combine the hot mashed potatoes with 1/2 cup of cheese and spread over the beef mixture. Top with the remaining cheese and sprinkle with a little paprika. Bake, uncovered, for 20 to 25 minutes, or until hot. Broil for a few minutes to brown the potatoes.
Serves 4
Site Search