Baked Macaroni and Cheese
by
, Updated April 25, 2017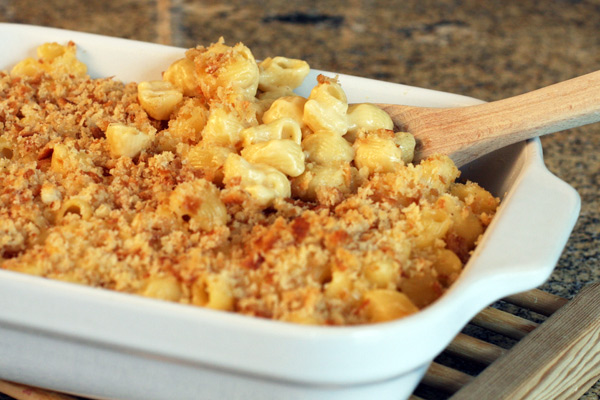 This is a big favorite in our house, and I like to make this with a dash of garlic powder, or I rub the baking dish with cut sides of a halved clove of garlic. Even without the garlic, this is a delicious macaroni and cheese - it's one your family will ask for again and again. Serve this dish as a side dish to a big meal or holiday dinner or serve with a tossed salad for a meatless meal.

If you use a larger pasta, like the pipette pasta in the picture, use a little more, about 10 to 12 ounees (2 1/2 to 3 cups raw).

I used a "Classic Melts" blend of American, Cheddar, and Monterey Jack cheeses, but all Cheddar or a blend of cheeses will work as well.
Prep Time: 15 minutes
Cook Time: 40 minutes
Total Time: 55 minutes
Ingredients:
Instructions:
Heat the oven to 350 F.
Lightly grease a 2 1/2-quart baking dish or spray with nonstick cooking spray or baking spray.
Cook the macaroni in boiling water following package directions.
Meanwhile, in a saucepan over medium-low heat, melt 4 tablespoons of butter. Whisk in the mustard, garlic powder, and pepper, then add the flour and cook, whisking, for 1 minute. Add the milk and cook, stirring, until thickened. Stir in the shredded cheese. Taste and add salt, as needed.
Drain the macaroni in a colander and rinse under hot water. Drain well and combine with the cheese sauce. Turn into the prepared baking dish.
Melt the remaining 2 tablespoons of butter. Toss the breadcrumbs with the melted butter and sprinkle over the macaroni and cheese.
Bake for 25 to 30 minutes, until topping is lightly browned.
*I make bread crumbs in the food processor with day old bread, then I freeze it in bags and use it for casseroles, meatballs, or meatloaf.

Serves 6

Calories per serving:

528

Related Recipes
Ham and Asparagus With Fettuccine
Chicken, Macaroni, and Cheese Casserole
Low Carb Cauliflower "Macaroni and Cheese"

Site Search