Apple Walnut Muffins
by
, Updated April 25, 2017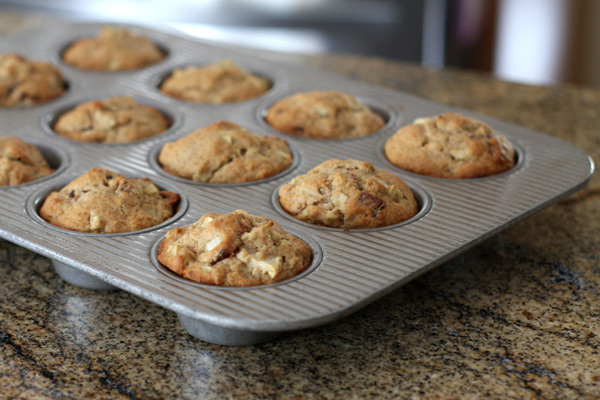 Tender cooked apples provide a spiced flavorful filling for these wonderful muffins. If you're short on time, use chopped prepared apple pie filling in these delightful muffins.
Prep Time: 15 minutes
Cook Time: 25 minutes
Total Time: 40 minutes
Ingredients:
Instructions:
Preheat the oven to 350 F.
Grease 24 muffin cups or line with paper liners.
In a small skillet or saucepan, melt the 2 tablespoons of butter over medium heat. Add the brown sugar, 1 tablespoon of flour, 1/2 teaspoon of cinnamon, nutmeg. Stir until blended and smooth. Add the diced apples and cook, stirring, for about 10 to 15 minutes, until apples are tender. Remove from heat and stir in walnuts. Set aside to cool.
In a mixing bowl with electric mixer, cream the 3/4 cup of butter with the 1 1/2 cups of sugar. Add the eggs, one at a time, beating well after each addition. Beat in the vanilla extract.
Combine the 3 1/2 cups of flour with the baking powder and soda. Slowly beat the flour mixture into the creamed mixture, alternating with the sour cream.
Fill muffin cups with about 2 to 3 tablespoons of the batter. Top evenly with apple mixture, then top with remaining batter. Combine the 1 teaspoon of cinnamon with the 2 tablespoons of granulated sugar. Sprinkle over the muffins. Bake for 24 to 27 minutes, until muffins are set and spring back when pressed lightly with a finger.
Makes about 2 dozen muffins.

Calories per serving:

252
Site Search