Bolognese Sauce Recipe
by
, Updated April 25, 2017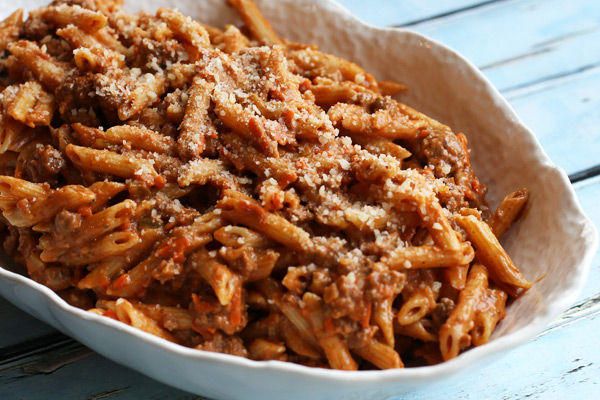 Use this delicious sauce as a lasagna sauce or a sauce for spaghetti or farfalle. Feel free to replace about 1/2 pound of the beef with ground Italian sausage or ground pork. Make extra to freeze for another day!
Prep Time: 15 minutes
Cook Time: 1 hour 15 minutes
Total Time: 1 hour 30 minutes
Ingredients:
Instructions:
In a food processor, pulse the onion, carrot, and celery until finely chopped.
In a large saucepan heat the butter and olive oil over medium heat. Add to it the chopped vegetables and bacon or pancetta. Cook, stirring often, for 5 minutes, or until onion is softened.
Add the ground beef to the vegetables and continue cooking, stirring freqently, until beef is no longer pink.
Add garlic and cook for 1 minute longer.
Stir in the tomatoes, tomato paste, wine, water, parsley and basil, salt, and pepper. Cover and simmer over low heat for 1 hour, until sauce is thick.
Serve with hot cooked farfalle, spaghetti, or use for sauce in your favorite lasagne recipe.
Serve with plenty of good Parmesan cheese.
Serves 6

Calories per serving (not including Parmesan cheese or pasta):

405
Site Search