Lima Bean Bake
by
, Updated April 25, 2017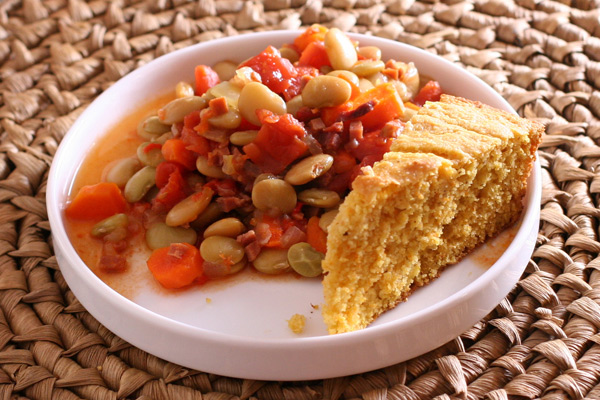 This lima bean bake is made with dried lima beans, bacon, and a barbecue sauce blend of tomato sauce, brown sugar, Worcestershire sauce, and other ingredients.
Prep Time: 10 minutes
Cook Time: 1 hour 35 minutes
Total Time: 1 hour 45 minutes
Ingredients:
Instructions:
Heat the oven to 350 F.
Soak beans overnight following package directions.
Drain the beans. Add beans to a large saucepan and add enough boiling water to cover beans. Bring to a boil, reduce heat, cover, and simmer for about 45 minutes, or until the beans are just tender. Drain.
Saute the bacon in a large skillet over medium heat until browned. Add the onion to the skillet and continue cooking until onion is tender. Remove the bacon and onion to a large bowl with a slotted spoon and add the drained bacon to the bowl. Discard excess grease.
Add the beans to the bowl, along with the tomato sauce, tomatoes, brown sugar, salt, mustard, Worcestershire sauce, and water. Stir gently until well blended.
Turn into a 2 1/2- to 3-quart baking dish. Cover tightly with foil and bake for 30 minutes. Uncover and bake for about 20 minutes longer.
Serves 6

Calories per serving:

347
Site Search