Short Ribs With Vegetables
by
, Updated April 23, 2017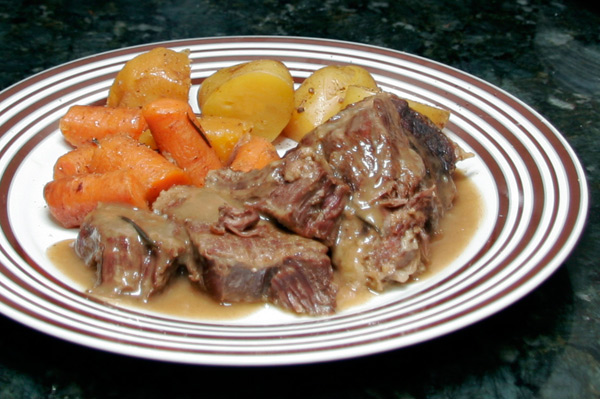 These delicious short ribs are baked with vegetables and a tangy mustard and horseradish sauce.
Prep Time: 20 minutes
Cook Time: 3 hours
Total Time: 3 hours 20 minutes
Ingredients:
Instructions:
*You might need more or less, depending on how meaty the ribs are. Or use boneless ribs.
Preheat oven to 350 F.
Trim excess fat from beef short ribs. Place ribs in a 9-by-13-by-2-inch baking pan or large shallow roasting pan. Sprinkle with salt and pepper.
Bake uncovered for 2 hours then drain off excess fat.
Add carrots, potatoes, green beans, and onions.
In a bowl, combine the broth with horseradish and mustard; pour over meat and vegetables.
Cover with foil and bake for 1 to 1 1/2 hours longer, or until tender.
Arrange the beef short ribs and vegetables on a serving platter and keep warm.
Measure pan drippings and add a little water or broth, if necessary, to make 2 cups.
Return to baking pan or pour into a saucepan and place over medium heat.
In a cup or small bowl, mix cornstarch with cold water.
Stir into the pan drippings and bring to a boil, stirring constantly. Boil for 1 minute. Serve the pan gravy with the short ribs and vegetables.
Serves 4

Calories per serving:

640


Fat per serving:

22.1g



Site Search