Favorite Swiss Steak
by
, Updated April 23, 2017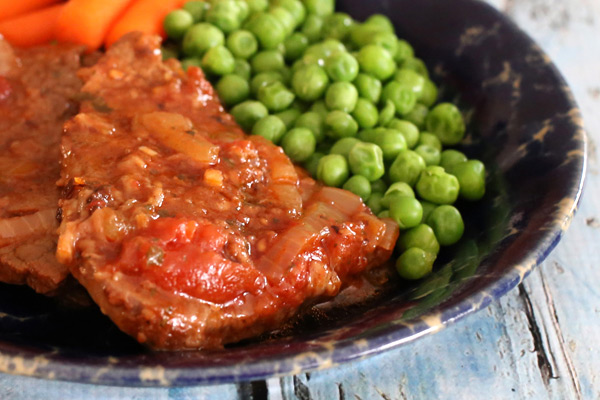 A tasty Swiss steak recipe with tomatoes, vegetables, and seasonings. This makes a delicious everyday family meal.
Prep Time: 10 minutes
Cook Time: 1 hour 45 minutes
Total Time: 1 hour 55 minutes
Ingredients:
Instructions:
Heat the oven to 350 F.
Cut steak into 6 serving-size pieces.
In a food storage bag, combine 3 tablespoons flour, mustard, the 1/2 teaspoon salt, and 1/4 teaspoon pepper. Rub over steak and pound with a meat tenderizing mallet.
In a large skillet heat oil over medium high heat. Add steak pieces; brown on both sides. Transfer browned steak pieces to a greased 2 1/2-quart baking dish. Top with the carrots, onion, and green pepper. Sprinkle with brown sugar and Worcestershire sauce. Pour tomatoes over all. Cover and bake until tender, about 1 1/2 to 2 hours. Transfer to a serving dish and keep warm.
Strain juices into a measuring cup and add water to make 1 cup. In a saucepan, combine the 2 tablespoons of flour with 1/4 cup water, stirring until smooth. Whisk in the 1 cup pan juices.
Bring to a boil, stirring constantly. Continue to boil, stirring, until thickened, about 1 to 2 minutes. Taste and add salt and pepper, to taste. Serve gravy with the steak.
Serves 6

Calories per serving:

356


Fat per serving:

16.1g



Site Search