Veal Scaloppine
by
, Updated April 20, 2017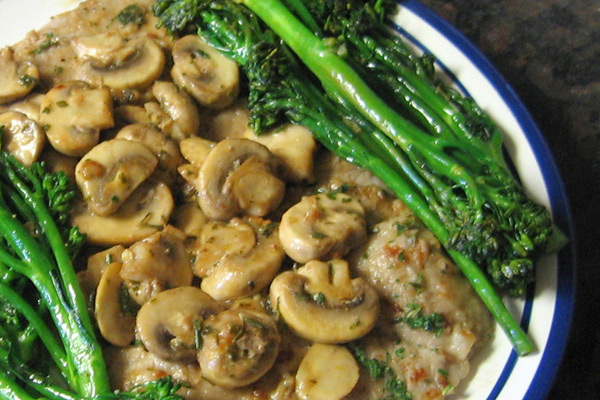 So few ingredients and such great flavor! This easy veal cutlet recipe contains mushrooms, wine, and olive oil.
Prep Time: 15
Cook Time: 10 minutes
Total Time: 25 minutes
Instructions:
Slice the veal in 8 to 10 evenly-sized pieces, then pound very thin, to about 1/8-inch thick. Sprinkle veal with salt and pepper, then dust lightly with flour.
In a large skillet over medium heat, cook mushrooms in 2 tablespoons of the olive oil until tender, about 4 to 5 minutes. Remove mushrooms and keep warm.
Add remaining olive oil to the skillet and heat. When hot, add several pieces of the veal. Brown over high heat for about 1 minute per side.
Keep cooked meat warm while browning remaining meat.
When all meat is browned, drain off excess fat and return mushrooms and meat to pan.
Add wine and cook at high heat for 1 minute.
Arrange meat and mushrooms on warm platter.
Scrape bottom of pan to get browned bits and blend with wine.
Pour over the cooked veal and mushrooms.
Serves 4

Calories per serving:

463
Site Search