Country Captain Chicken
by
, Updated April 17, 2017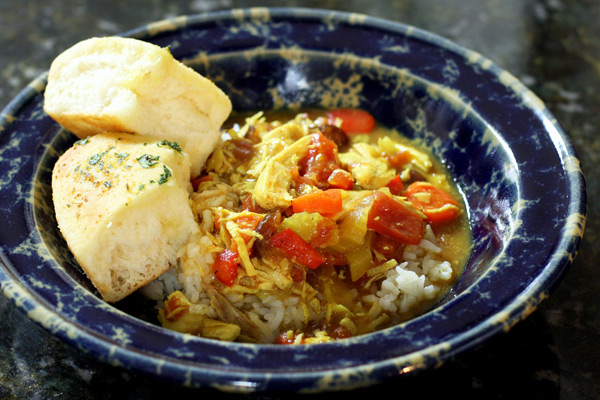 This exotic combination of chicken, curry powder, tomatoes, and raisins makes a delicious and interesting chicken stew.
Prep Time: 20 minutes
Cook Time: 1 hour 10 minutes
Total Time: 1 hour 30 minutes
Instructions:
Combine flour, salt, and pepper in a food storage bag. Add chicken and toss to coat all pieces. Melt butter over medium-low in a large skillet; add chicken and cook over medium heat until browned on all sides.
Remove chicken; add onion, green pepper, garlic, curry, 1/2 teaspoon salt, and thyme, and cook until tender.
Add tomatoes, breaking up. Simmer, uncovered, 10 minutes.
Return chicken to skillet and simmer, covered, over medium-low heat, until chicken is fork tender and juices run clear, about 45 minutes.
Add raisins and cook 5 minutes longer.
Serve with hot cooked rice.
Serves 6

Calories per serving:

532
Site Search