Easy Stuffed Potato Wedges
by
, Updated April 17, 2017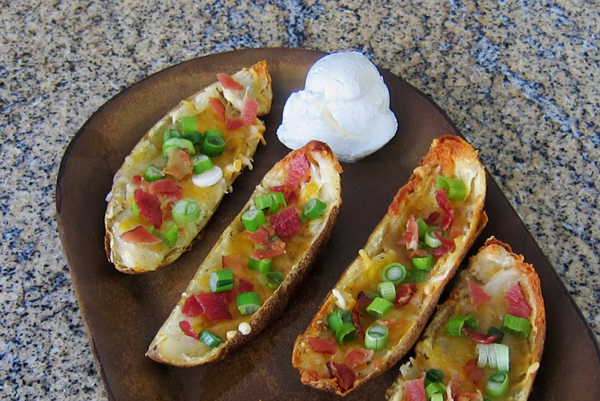 These potato skins make a delicious side dish or game day snack. Feel free to use sliced green onions, crumbled cooked sausage, or your favorite toppings for potato skins.
Prep Time: 10 minutes
Bake Potatoes: 60 minutes
Cook Time: 15 minutes
Total Time: 1 hour 25 minutes
Instructions:
Heat the oven to 425 F.
Wash the potatoes; rub with olive oil. Prick the potatoes all over with a fork and bake directly on the oven rack until fork tender, about 55 to 65 minutes, depending on the size of the potatoes.
Reduce the oven temperature to 375 F.
Cut baked potatoes in half lengthwise. ; scoop pulp into a bowl and set shells aside. Combine potato pulp with butter; beat until smooth.
Spoon potato mixture into the potato shells, mounding slightly. Place on baking sheet.
Top with crumbled bacon and cheese. Bake at 375 F for 15 minutes, or until cheese has melted. Cut in halves or quarters to serve as an appetizer.
Serves 8

Calories per serving (based on 8 servings):

194
Site Search