Stuffed Cabbage Rolls
by
, Updated April 16, 2017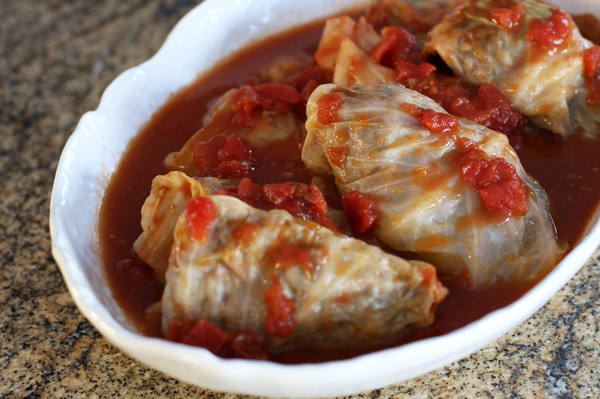 These are classic cabbage rolls. The cabbage leaves are stuffed with ground beef, rice, and a flavorful tomato sauce. Serve with mashed potatoes for a fabulous family meal.
Prep Time: 25 minutes
Cook Time: 3 hour
Total Time: 3 hour 25 minutes
Instructions:
Remove about 15 large leaves from the cabbage; cut off very thick part of each leaf. Pour boiling water over the cabbage to wilt the leaves.
Preheat oven to 350 F.
Combine ground chuck with the rice, grated onion, eggs, 1 teaspoon salt, 1/4 teaspoon pepper. Place a mound of meat mixture in cupped part of each softened cabbage leaf. Fold over sides of cabbage leaf; roll up.
In bottom of a large casserole or Dutch oven, place a few of the remaining leaves.
Arrange layers of cabbage rolls, seam side down, and sliced onions in a Dutch oven or large casserole.
In a bowl, combine the tomato sauce, tomatoes, lemon juice, and 1 teaspoon salt and 1/4 teaspoon pepper. Pour the mixture over the cabbage rolls.
Bring to a boil on stovetop. Sprinkle with brown sugar, to taste.
Bake, covered, for 1 hour. Uncover and bake 2 hours longer.
Serves 6

Calories per serving:

243
Site Search