Swedish Meatballs
by
, Updated April 16, 2017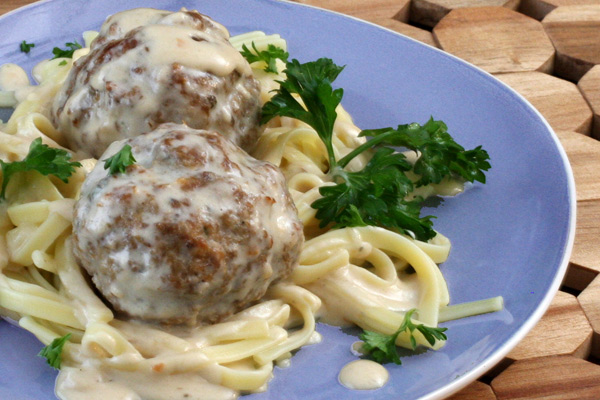 Swedish meatballs are flavorful, made with ground beef, onions, seasonings, and a white sauce mixture. Serve Swedish meatballs with cooked buttered noodles or rice for a fabulous everyday family dinner.
Prep Time: 20 minutes
Cook Time: 35 to 40 minutes
Total Time: 60 minutes
Instructions:
Preheat oven to 350 F.
Stir together egg, 3/4 cup milk, and bread; let stand for 5 minutes.
Beat bread and milk mixture with a fork; stir in 1 teaspoon salt, 1/8 teaspoon pepper, nutmeg, onions, and ground beef.
In a skillet, saute the sliced onions in hot oil until onions are golden and tender; remove onions with slotted spoon.
Shape meatballs into balls with help from a teaspoon; drop into the hot skillet. Brown quickly on all sides and then remove to a 1 1/2-quart casserole.
Remove all but 2 tablespoons of fat from the skillet and then place the pan back on heat. Stir flour, 1/2 teaspoon salt, and 1/8 teaspoon pepper into the hot fat; stir until smooth and bubbly. Gradually stir in milk, cooking and stirring until thickened.
Pour over meatballs then top casserole with sauteed onion slices. Cover and bake for 25 to 30 minutes, until bubbly and hot.
Serves 4

Calories per serving:

326
Site Search