Roast Leg of Lamb
by
, Updated April 11, 2017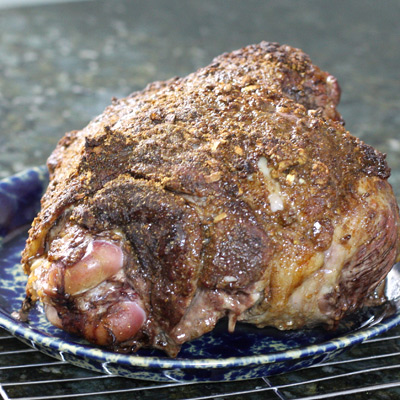 This leg of lamb is flavored with a ketchup and Worcestershire sauce glaze. Serve this roasted leg of lamb with mashed potatoes and peas, or use your favorite side vegetable.
Prep Time: 6 minutes
Cook Time: 2 hours depending on size
Total Time: 2 hour 6 minutes
Instructions:
Heat the oven to 325 F.
In a small bowl, combine ketchup and Worcestershire sauce.
Season meat with salt and pepper; place on rack in open roasting pan. Insert meat thermometer in thickest part of meat, making sure end does not touch bone or rest in fat. Or, use an instant read thermometer while roasting to check temperature.
Roast lamb for about 25 to 30 minutes per pound, basting occasionally with ketchup and Worcestershire sauce mixture.
Meat thermometer should register 145 F for rare, 160 F for medium, or 170 F to 175 F for well done.
Remove from oven and let stand 10 to 15 minutes before carving.
Allow 1/2 to 3/4 pound per person.
Serves 8

Calories per serving:

546
Site Search