Chicken Cacciatore
by
, Updated April 9, 2017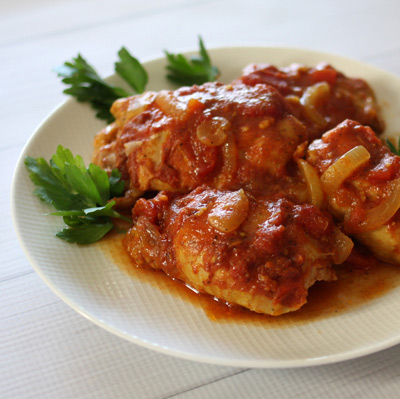 Serve this tasty chicken with hot cooked spaghetti, linguini, or similar pasta, and pass the Parmesan!
Prep Time: 10 minutes
Cook Time: 45 minutes plus time to cook chicken
Total Time: 45 minutes
Instructions:
Cook chicken in seasoned water or broth until done; drain. When chicken is cool enough to handle, remove chicken meat from bones and cut in pieces.
While chicken is cooking, combine tomatoes, tomato paste, onion, bell pepper, mushrooms, and parsley in a large pot. Stir well and add garlic powder, basil, and oregano. Cover and bring to a boil; reduce heat and simmer for 45 minutes. Add chicken broth as needed to thin sauce.
Add cooked chicken and simmer for 20 to 30 minutes longer.
Serve chicken cacciatore over spaghetti or pasta.
Serves 4 to 6. Calories per serving (based on 4 servings):

453
Site Search