Carrot Raisin Salad
by
, Updated April 10, 2017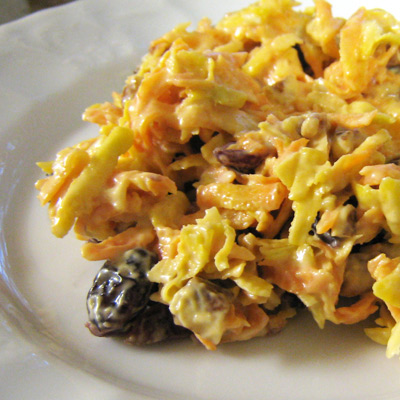 This delicious sweet and tangy carrot salad includes raisins, apples, and crushed pineapple, along with mayonnaise and lemon juice. It's a great fruit and vegetable salad sweetened naturally.
Soak Time: 20 minutes
Prep Time: 10 minutes
Total Time: 30 minutes
Instructions:
Soak raisins in pineapple juice for 20 minutes.
Add the crushed pineapple, carrots, and apples to the raisins and toss to blend.
In another bowl, combine the lemon juice and 1/2 cup of mayonnaise; mix well.
Add mayonnaise mixture to the carrots and blend well. Add more mayonnaise, if needed.
Serves 8

Calories per serving:

220
Site Search