Italian Bread
by
, Updated April 10, 2017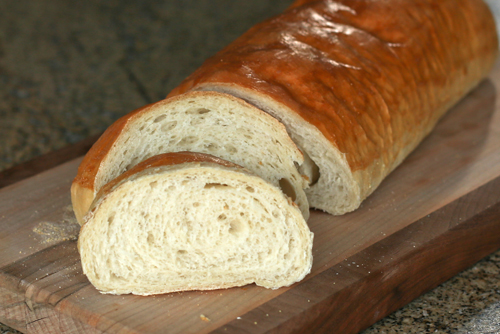 This is a crusty Italian style bread, a delicious bread to serve with soup, pasta dishes, or just enjoy toasted or for sandwiches. This recipe makes 2 loaves of Italian bread.
Prep Time: 35 minutes
Rise and Rest Time: 3 hours 10 minutes
Cook Time: 35 minutes
Total Time: 4 hours 20 minutes
Instructions:
Pour warm water into a warm mixing bowl; sprinkle with the yeast. Let stand for 5 minutes, then stir in about 2 cups of the flour. Beat well; add salt and gradually beat in all but about 2 cups of the flour. Turn out onto a lightly floured surface and cover with a clean dish towel; let rest 10 minutes.
Knead by hand for 20 minutes or until dough is very elastic, kneading in as much of the remaining flour as necessary for smooth dough. Place dough in a lightly buttered bowl, turning to grease all of the dough surface.
Cover bowl with foil then cover with a dish cloth and let rise in a warm place for about 1 to 1 1/2 hours or until doubled in bulk. Punch dough down and let rise to double again, about 1 hour longer.
Turn out onto a lightly floured surface. Divide in half and form each portion into a ball.
Cover with dish cloth and let rest for 10 minutes.
Roll each half of the dough into a 15-by-8-inch rectangle about 1/2-inch thick. Roll up tightly, starting with short side, sealing as you roll. Taper ends by rolling out with hands until loaf is 10 to 11 inches long.
Place loaves seam side down on buttered baking dishes which have been sprinkled with yellow cornmeal.
Add 1 tablespoon of water to egg white in a bowl and whisk lightly; brush over and along sides of loaves.
Cover the loaves with a damp cloth without touching dough -- place glasses or cups around loaves and place towels on them.
Place pans in in a warm place to rise for about 1 hour, until doubled in bulk.
Place a shallow pan on bottom rack of oven; fill with boiling water.
Bake loaves in center of oven preheated to 375 F for 20 minutes.
Makes 2 Loaves
Site Search