Chicken Spaghetti
by
, Updated April 10, 2017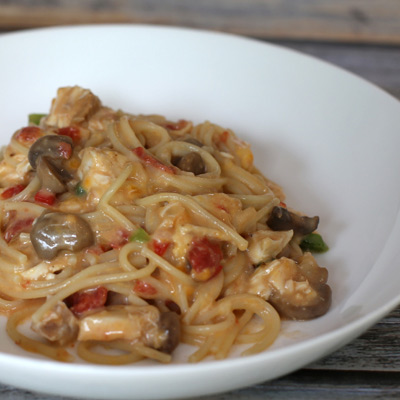 Chicken spaghetti is a popular recipe in our family. This version is made with bell pepper, pimiento, and Cheddar cheese.
Prep Time: 15 minutes
Cook Time: 40 minutes
Total Time: 55 minutes
Instructions:
Heat the oven to 350 F.
Put enough chicken broth in a large saucepan to cook spaghetti; bring to a boil. Cook spaghetti in the boiling chicken broth until tender, following the package directions for timing.
In a large saucepan over low heat, melt butter; add flour, stirring until smooth and bubbly. Gradually add milk; cook, stirring, until sauce is thickened. Add green pepper, 3/4 cup shredded cheese, the cream of mushroom soup, garlic powder, salt, Worcestershire sauce, and pimiento. Add chicken and cooked spaghetti; transfer to a lightly greased casserole.
Top with Parmesan cheese or more shredded Cheddar cheese and bake for 25 to 30 minutes.
Serves 6

Calories per serving:

525
Site Search