Nana's Doughnuts
by
, Updated April 10, 2017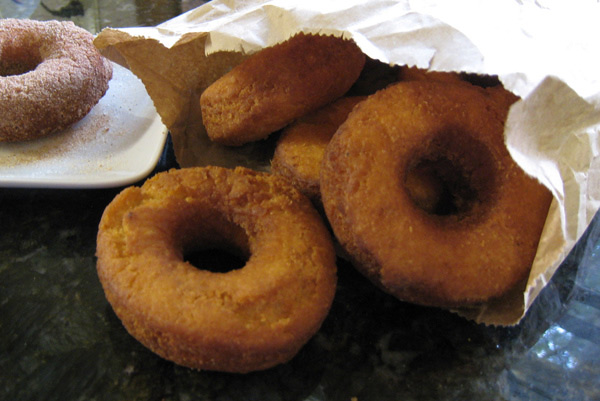 These classic homemade doughnuts can be rolled in sugar or cinnamon sugar mixture while they're still a little warm.
Prep Time: 15 minutes
Cook Time: 20 to 30 minutes
Total Time: 45 minutes
Instructions:
Into a bowl, sift together flour, baking soda, nutmeg, and salt. Cream shortening; gradually add sugar, beating until light and fluffy. Add egg; beat well. Stir in vanilla.
Add combined vinegar and milk alternately with dry ingredients; stir just until well blended.
Roll small quantities of the dough at a time, to about 1/3-inch thick. Cut doughnuts with a 2 1/2-inch cutter and let stand for about 10 minutes.
Fry in hot fat at about 365 F to a nice golden brown. Turn once.
Fry only 3 or 4 doughnuts at a time to keep fat from cooling down. Drain on paper towels.
Makes about 18 doughnuts.

Calories per serving:

190
Site Search