Basic Chocolate Brownies
by
, Updated April 10, 2017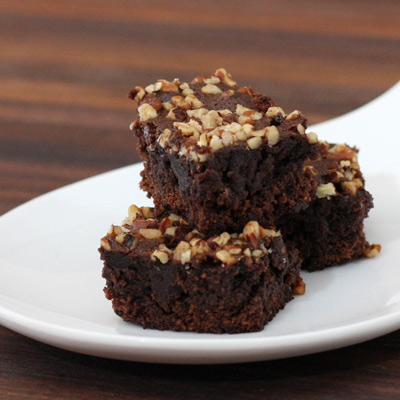 Have a chocolate craving? Make brownies! These brownies are made with melted butter and chocolate, along with chopped walnuts.
Prep Time: 10 minutes
Cook Time: 25 Minutes
Total Time: 35 minutes
Instructions:
Into a bowl, sift together the sifted flour, baking powder, and salt.
Heat the oven to 350 F.
Melt butter and chocolate over hot water or very low heat.
In a mixing bowl, beat eggs. Add sugar to eggs a little at a time, beating well. Blend in the chocolate and butter mixture. Stir in flour mixture, blending well. Stir in chopped walnuts and vanilla.
Spread brownie batter in a greased and floured 8-inch square pan.
Bake for about 25 minutes.
Cool in pan and cut into squares.
Serves 16

Calories per bar:

182
Site Search