Orange Meringue Pie
by
, Updated April 9, 2017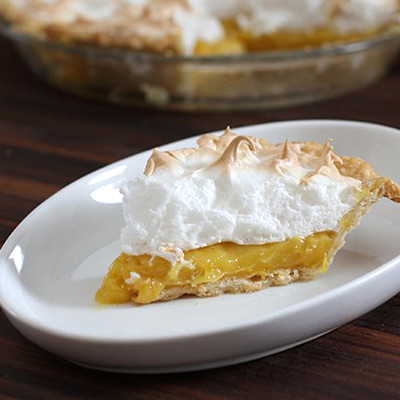 This orange meringue pie is adapted from a 1940 Sunkist™ recipe booklet. Make this with the included orange pastry, or use your own pie shell recipe or a purchased frozen pie shell.
Prep Time: 20 minutes
Cook Time: 35 Minutes
Total Time: 55 minutes
Orange Pastry
Filling and Meringue
Instructions:
Heat the oven to 450 F.
Sift together dry ingredients; add orange peel. Cut in shortening until particles are the size of small peas. Add orange juice a little at a time, mixing lightly with a fork, using just enough to hold dough together. Do not overmix.
Flatten the dough into a disk and wrap in plastic wrap. Refrigerate until thoroughly chilled.
Roll pastry out on a lightly floured surface. Fit into a 9-inch pie plate; prick bottom and sides then trim edges and crimp. Or, to help pie keep its shape, use pie weights or fit a second pie plate over the crust to hold in shape.
Bake at 450 F for 15 minutes, or until lightly browned. Reduce the oven temperature to 350 F.
Filling and Meringue
Mix sugar, cornstarch, salt, and grated orange peel in top of double boiler. Add orange juice and cook over boiling water, stirring constantly, until thickened, about 15 minutes. Stir in beaten egg yolks and cook another 2 minutes. Remove from heat; add butter and lemon juice. Cool filling slightly.
Pour orange filling into the baked 9-inch pastry shell.
Beat egg whites until frothy; gradually beat in sugar.
Continue beating until stiff peaks form.
Cover the filling with meringue all the way to edges.
Bake at 350 F for about 15 minutes, or until the meringue is nicely browned.
Site Search